Broomleaf: Early History
In the introduction to her book "The Cocker Spaniel" published in 1979, Kay Doxford wrote "I have owned Cocker Spaniels for over 40 years now, and I can say with honesty that I have never regretted my choice, they have given me so much pleasure over the years, both as show dogs and as well loved household pets".
There follows just a small insight into the years of the Broomleaf Kennels during the 1930's, through the post war period, and the 30 years or so when Broomleaf, together with Lochranza, ruled supreme in the show ring, at the same time providing foundation stock for many of the devotees of the solid Cocker.
Kathleen Doxford (nee Powell) was born in August 1907 on the Channel Island of Guernsey into a family with famous and influential ancestors. Kay's paternal grandfather was a governor of The Bank of England, whilst a paternal great uncle was Lord Robert Baden Powell (1857-1941) founder of the Boy Scout Movement. The poet Rudyard Kipling (1865- 1936) was related on the maternal side of the family.
Kay led an idyllic life as would befit a young lady of the era and was said to be horse mad. The earliest photographs show a pretty young lady complete with the family pets.
In her twenty first year she was presented at Court and in 1935 Kay Powell became Kay Doxford following her society wedding to Army Captain Edward Michael Doxford. The groom was a member of the Sunderland based Doxford Shipbuilding and Engineering family, the couple settled down to married life in a house named "The Coppice", Lynch Road, Farnham, Surrey a wedding gift from the groom's parents.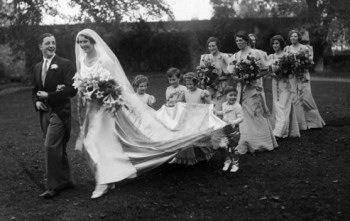 Kathleen, universally known as Kay, already owned cockers as on 29th September 1931 records indicate a black bitch Blackmoor Candy (previously known as Red Lady of Merok born 5.7.30 bred by a Mrs Nugent) was transferred to Kay Powell. Records further show Treetops Trojan born 17.10.35, bred by Mrs L R King was bought on 18.2.36 and gained 60 prizes by the age of 11 months.
Kay Powell became a member of The Cocker Spaniel Club in 1934, residing at that time at The Glebe House, Aldershot. In 1937 at The Cocker Club Championship Show with Lt Col J. Downes judging dogs and Mr. R Somersgill bitches Kay won the special prize for best Red or Golden veteran and a further special for best Cocker bred in Ireland! The Broomleaf affix was granted in 1938.
Married life was to be all too short as the conflict of 1939-1946 took Captain Doxford to war in Europe. He was tragically killed during the retreat from Dunkirk leaving Kay a widow after only five years of marriage. Following the loss of her husband, Kay Doxford became seriously ill, losing the child she was expecting; her illness lasted some little time and help was required in the then established kennels. Two of the existing staff determined to join the Woman's Land Army and much needed assistance arrived in the shape of Peggy Grayson.
Peggy was herself a Land Army girl, her stay was extended from" just for a short while" to many weeks; she remembers how very ill Kay was and for such a long period. Her memories also include being despatched to a dog show with the Broomleaf Cockers, of walking to the bus stop and returning from the show in the rain only to be chastised for not doing as well as the mistress had expected! Whilst Peggy stayed for just a short while another face and name well know in Cocker circles was to play an important part in the Broomleaf story.
Much later Poppy Becker first visited Erlands to use a Broomleaf stud dog. She and Kay liked the look of each other and Poppy began a long association as assistant, then kennel manager and companion, which continued until Kay's death in 1984, whereupon Poppy was bequeathed the Broomleaf affix. (Her personal affix of Olanza is of course in honour of the Italian tenor/film star Mario Lanza, Poppy being a fan!)
Broomleaf:Early History | Broomleaf: The 1940's onwards | Broomleaf Photo Gallery